Complete Program Kingdom Training Center
School of the Spirit 
A Series of Powerful Courses!
You can Establish a Kingdom Training Center
in your church ~ your home ~ where you work ~ anywhere in the world!
by Dr. A.L. & Joyce Gill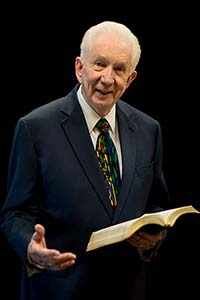 These fourteen foundational, life-changing courses were carefully selected to move believers into living in the supernatural power of God.
The Gills believe that every believer is to be a minister. Therefore, every believer needs to be taught to do the work of the ministry, to do the very same works that Jesus did. It is often during the process of studying the five-fold ministry of apostles, prophets, teachers, pastors and evangelists that the calling on a person's life becomes clear.
It is the power of God's Word that changes lives!
Jesus said, "If you abide in My word, you are My disciples indeed. And you shall know the truth, and the truth shall make you free."
It is the knowledge of God's Word that brings freedom!
Hearing testimonies brings faith, but it's the Word of God that sets us free. It's the knowledge of His Word that gives us strength to stand against the wiles of the devil.
Dr. A.L. Gill's teaching, lesson-by-lesson, through these courses, is available – here – free.