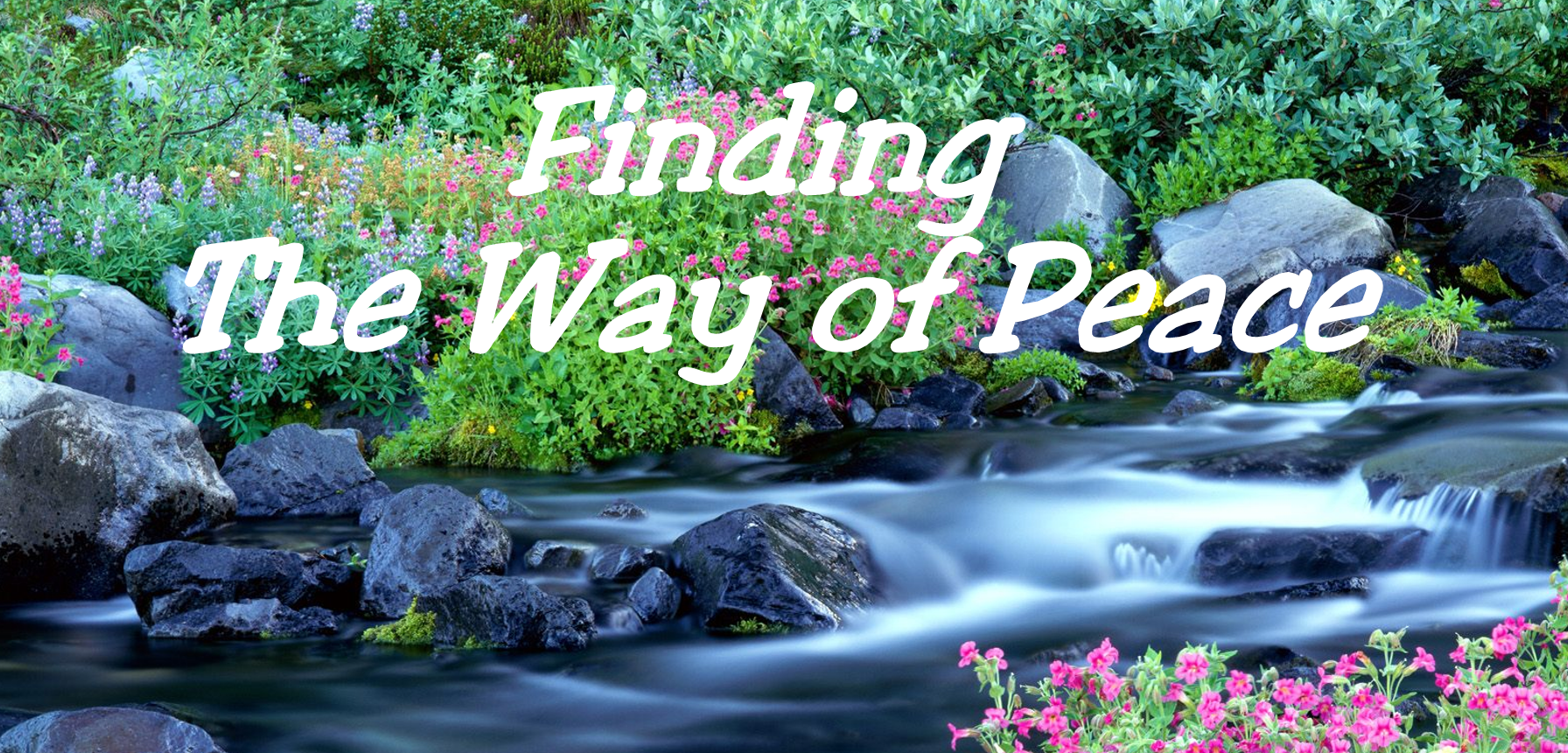 As the news has become increasingly focused on all the negative things that are happening around us in our nation, state and local governments, many believers are becoming discouraged. Everywhere we go, we are hearing conversations filled with desperation about the bad news.
As we listen to the news media, we are hearing hate-based talk on a continuous basis. We are hearing lies told over and over again, until our true, God-given, discerning of spirits is dulled, even overwhelmed by all that seems to be.
God led Joyce and I to cancel our television subscription years ago. There is a lot of mind-control coming from the television media across our nation. Constant negative input into our lives is becoming more and more hard to negate. We keep up with the news on a daily basis so we will know how to pray, but now it's in a limited, controlled way.
Christians can't deny that a "fullness of evil" has come into the halls of congress and even into our state and local governments. But, as many have become focused on this evil, they have become frustrated and discouraged. In the battle against evil, their thoughts and focus have become continually focused on the horrible, negative, discouraging things that are happening.
FINDING PEACE
But as believers, we need to focus on the good news which is the gospel of Jesus. We are living in the most exciting time in the history of the world, the time when the knowledge of the glory of the Lord is going to fill this earth as the waters cover the seas!
God has chosen each one of us to be alive for the "Grand Finale." The "Gospel of the Kingdom will be preached in all the world as a witness to all nations" and then Jesus will return!
We have the Truth, and the Truth will set us free! This is not to be a time of fear, discouragement and desperation. It's a time for God's people to encourage themselves in the Lord; to rise up and be the Church which Jesus said He would build. A Church which will forcibly advance the Kingdom of God in every strata of society. It is time to take back what the enemy has stolen.
The advancement of the Kingdom of God will not come to those who are continually focused on what the bad news, what the evil forces of darkness have been doing. The good news is, "Greater is He who is in us than He who is in this world."God has given us power over all of the power of the enemy! We cannot continue wrestling with flesh and blood and becoming frustrated and discouraged by what the devil is doing. The Word says, God has given us power over all of the power of the enemy. The Word says, we are "More than Conquerors." "We are overcomers in His Name."
A VICTORIOUS CHURCH
The Church of the Living God is awakening from its sleep, to be the Church that the gates of Hell will not prevail against. No longer will we be wrestling with flesh and blood, fighting the wrong enemy with the wrong weapons. We are changing our focus from all the evil that is happening around us to "who we are" in Jesus, what we can do and what we can have in Him.
The Word says: "As a man thinks in his heart, so is he!" The body of Christ needs to change from being weak believers to being strong warriors in the power of His Word!
Negative words release negative results. Words of life bring life!
Words satisfy the soul as food satisfies the stomach; the right words on a person's lips bring satisfaction.
Those who love to talk will experience the consequences, for the tongue can kill or nourish life. 
Proverbs 18:20-21 NLB
We have been commissioned to proclaim "the gospel" which is the good news. 
For out of the abundance of the heart the mouth speaks. (Matthew 12:34b)
Thou shalt also decree a thing, and it shall be established unto thee: 
and the light shall shine upon thy ways. (Job 22:28 KJV)
GOING TO THE NATIONS
As we began Gill Ministries in 1983, Joyce and I were led to begin asking for the nations! We took Psalms 2:8 to be our life prayer.
Ask of Me, and I will give You The nations for Your inheritance, 
And the ends of the earth for Your possession!
Now we are asking Him for our own nation … for our own state.
Our video teachings are in over 20,000 training centers in over 150 nations. Our ministry has taken us to close to one-hundred nations and some of those over fifty times.
May 8-18 – I will again be the opening week's teacher for The School of Acts in Kuala Lumpur,Malaysia, as I have been for over twenty-five years.
June 3-11 – I will be back in Italy for the tenth Anniversary of a church and Bible School we helped plant in that nation.
June 18-25 – I will be returning to Bogota, Columbia as a speaker for their annual leader's conference from the churches that have been planted all over Central and South America, Mexico and as far away as Japan.
We are in the midst of upgrading our series Fast Track to the Supernatural into Spanish for this trip.
As our emphasis and love to equip believers in the nations of the world continues, we are so aware that we can't do it alone. Matthew 13:39 speaks of "The Harvest at the end of the age!" We believe we are there!
Joyce and I pray for you every day, and we ask you to pray for us daily. And as you pray, ask what God would have you to do to help keep us on the front lines of this great end-time harvest. We need your prayers and your generous financial partnership with us in this international ministry.
Your missionaries to the world,
A.L. 'n Joyce Gill
What to do When You Are in Need of Peace
You will keep him in perfect peace, whose mind is stayed on You, because he trusts in You.  Isaiah 26:3
"Peace I leave with you, My peace I give to you; not as the world gives do I give to you.
Let not your heart be troubled, neither let it be afraid."   John 14:27
Be anxious for nothing, but in everything by prayer and supplication, with thanksgiving,
let your requests be made known to God; and the peace of God, which surpasses all understanding,
will guard your hearts and minds through Christ Jesus. Finally, brethren,
whatever things are true ~ whatever things are noble,
whatever things are just ~ whatever things are pure,
whatever things are lovely ~ whatever things are of good report,
if there is any virtue and if there is anything praiseworthy – meditate on these things.
The things which you learned and received and heard and saw in me, these do,
and the God of peace will be with you.  Philippians 4:6-9
Therefore, having been justified by faith, we have peace with God
through our Lord Jesus Christ, Romans 5:1
For you shall go out with joy, and be led out with peace; the mountains and the hills
shall break forth into singing before you,
and all the trees of the field shall clap their hands.  Isaiah 55:12      
For to be carnally minded is death,
but to be spiritually minded is life and peace.  Romans 8:6
Great peace have those who love Your law,
And nothing causes them to stumble.   Psalms 119:165
He shall enter into peace; they shall rest in their beds,
each one walking in his uprightness.  Isaiah 57:2
For the kingdom of God is not food and drink, but righteousness and peace and joy in the Holy Spirit.
For he who serves Christ in these things is acceptable to God and approved by men.
Therefore let us pursue the things which make for peace
and the things by which one may edify another. Romans 14:17-19
But the meek shall inherit the earth,
And shall delight themselves in the abundance of peace.  Psalms 37:11
Finally, brethren, farewell. Become complete. Be of good comfort, be of one mind, live in peace;
and the God of love and peace will be with you. 2 Corinthians 13:11
Now may the God of hope fill you with all joy and peace in believing,
that you may abound in hope by the power of the Holy Spirit.   Romans 15:13
Verses Taken from God's Promises For Your Every Need  NKJV
If our ministry is a blessing to you, we ask that you make a donation today to help us continue going to other countries, paying for translations, keeping our website up and doing the other projects God has laid on our hearts. We need your help! Click on the image or link.
Send a Donation
If you would like to donate by mail, please send to:
Gill Ministries, PO Box 6969, Big Bear Lake CA 92315