Get in touch with the Gills
                   Write
PO Box 399 - Santa Maria, CA 93456
Email
gillministries@gillministries.com
As you sow, you will also reap!
Donate Today!
Help AL and Joyce continue this ministry around the world.
They pray for you daily. Remember, God says, "Give, and it will be given to you. 
Visit us on Facebook for up-do-date info,
prayer requests and interaction.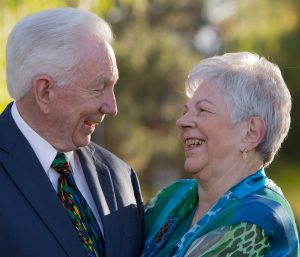 Read the latest about the Gill's ministry through their monthly newsletter. Sometimes, they tell of recent ministry travels, wonderful miracles, and great Meetings. Other months, they share the latest teaching God has given them. They are amazed and overwhelmed with all that God is doing!
They want to share with you what has happened, and what is going to happen, because you have an important part as revival fire continues around the world! How thankful they are that they are not in this battle to train and encourage ministries, to win the lost, and to heal the sick by themselves. They are going as your missionaries to the world.
A.L. and Joyce love to hear praise reports from believers around the world! Send them your report, and let them know what God is doing in your life! They read every email, and join with you in prayer for every prayer request. They cannot, however, answer every email.
Take a moment to give us your information so you can receive exciting updates, special offers, and teachings from the Gill Ministry email monthly newsletter.
To Order Bible Studies
Used in Kingdom Training Schools ~ Bible Classes ~ Personal Bible Studies Around the World
Order through Good Shepherd Ministries
International School of Ministry
Call: 1.909.478.3330 ~ Email: orders@isom.org
May God Bless you ~ your family
And your ministry for Him!