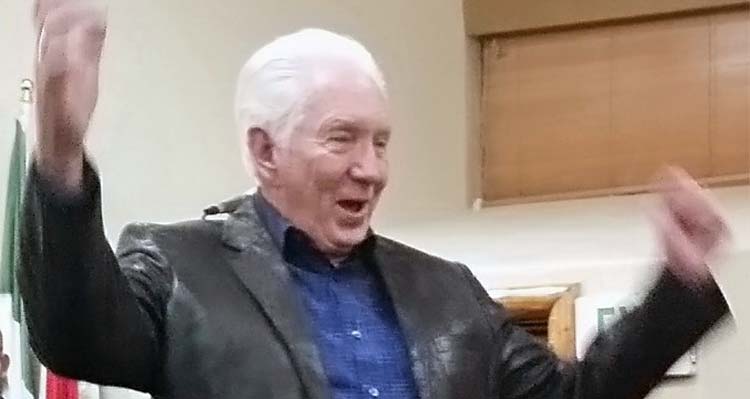 2017 – A Year of Miracles
We believe 2017 is a year of Miracles
And we believe miracles are a sign to unbelievers. We believe this will be a challenging year, an exciting year and we believe this will be a year of revival around the world! God is releasing His people to operate in the supernatural and this includes you!

This past Sunday, we were ministering in a church in Southern California, and as Joyce and I told about the miracles we have seen, we could feel the excitement growing in all of us. God is not a respecter of persons and what He has done for us and through us, He wants to do through every believer! As the desire grew to move in the supernatural power of God, there was a release of boldness and a release of faith. For every one of us, it is time to "step out of the boat" and believe God will minister through each of us!
Peter was the one who was willing to climb out of the boat to walk on the water as he was seeing Jesus do.
It seems everywhere we go, people are talking about an abundance of breakthrough miracles in their lives, finances and ministries.
Years ago, we wrote a book called Miracles Are Still Happening. We would like to send a free copy of this exciting book of miracles that have happened in our lives and the lives of our friends to everyone in the United States who writes and requests a free copy. This book is designed to release you into your miracle-working power.
Since receiving the baptism in the Holy Spirit forty-five years ago, we have experienced so many miracles in our lives that we couldn't begin to mention all of them. We have experienced:
God's supernatural protection
provision of finances/resources
multiplication of food,
being translated with our family in a nine-passenger station wagon across Los Angeles County
stopping rain and fire storms
and so many healing miracles
including creative miracles
the raising of the dead
and awesome glory manifestations. It would be impossible to even begin to mention them all
God is a God of Miracles!
Everywhere Jesus and the early disciples went there were miracles, miracles, miracles. Jesus said: "The works that I do shall you do also, and even greater works than these shall you do also."
As a "New Creation" in Jesus Christ, you are not the person you were before. "All things have become new!" God's plan for every Spirit-filled believer is that we should expect and experience supernatural miracles in our daily lives and ministries.
We are best known for our teaching on "Supernatural Living through The Gifts of The Holy Spirit" and "God's Provision for Healing – Receiving and Ministering God's Healing Power" both in our twelve foundational manuals and with the accompanying audio and video teachings.
Some of the greatest miracles we have seen have been through the hands of believers who we have trained to do the works of Jesus as we have traveled and ministered both here in the United States and close to one hundred nations around the world.
As we teach believers how to operate in all of the gifts of the Holy Spirit and how to minister healing to the sick and have them practice on one another, the excitement is overwhelming.
We have seen empty eye-sockets filled with eyeballs and the person seeing perfectly normal
A polio leg that was ten inches shorter than a young man's good leg grew out to the same size as his good leg
In another creative miracle through those we trained in The Philippines, a young man's arm that was cut off just below the elbow grew back on including a new hand!
What an Awesome God We Serve!
We could go on and on telling about so many miracles that we have experienced. But our prayer is that you, too, will experience these same miracles in your daily life and ministry.
This week, we have another miracle service scheduled here in Southern California and we are also ministering healing and training others on how to minister healing to the sick in a conference and workshop this coming weekend.
In February, we have scheduled meetings both here in California and in Ohio. The first weekend in March we are doing a "Jesus Explosion" in Celina, Ohio and have scheduled meetings in India in June and will be in Asia in August and September.
Again this September, I will be the opening week's teacher at an advanced, three-month Bible School in Malaysia for refugees from Myanmar. These will be students who have already completed their first three-month basic Bible training.
The young man who will be my interpreter again this year has caught the vision. His sister was one of my students at The School of Acts in Malaysia after coming to that nation as a refugee from Burma. After graduating, she went out and started winning many more refugees to Jesus and now they have a church with about eight-hundred in attendance.
Her brother reported leading 1,800 to Jesus just in one month's time. As he leads worship, the whole class hears the angels singing and playing the keyboard as he leads with his guitar. He said gold dust has been falling in the meetings. He has been preaching on the streets with large numbers being saved and healed by the power of God.
You can keep up with what we are doing through our website: www.gillministries.com or on Facebook at https://www.facebook.com/papagill. You will find many resources that are available in many languages free of charge. This includes our Kingdom Training Courses using our manuals, audio and video teachings.
Yes, these kinds of reports keep coming in from nations all over the world. It is our prayer that this year of 2017 will be a year of exciting miracles in your life and ministry as well!
Don't forget our offer to send a free copy of our book: Miracles are Still Happening to anyone in the United States who writes requesting a free copy. And then write and tell us about the exciting miracles that are happening in your life and ministry.
Your missionaries to the world,
A.L. 'n Joyce
To Mail a Donation
Send to: Gill Ministries, PO Box 6969, Big Bear Lake CA 92315